My big guy LOVES bubbles! I found a bubble recipe floating (no pun intended) around Pinterest, so I decided to try my hand at making them. It was super easy, especially considering I don't have to pry little foil wrappers off bubble bottle tops with my TEETH because they're impossible to peel off one- (or two-) handed. Seriously, making out with bubbles is NOT my idea of a good time, let me tell you.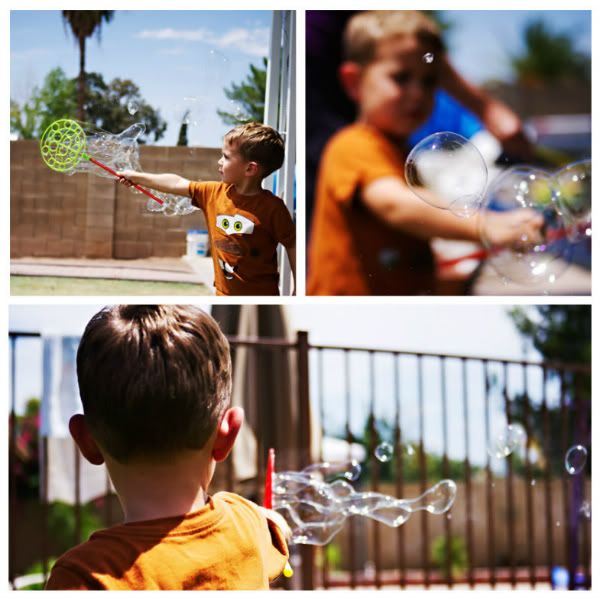 You must try this for yourself, it's easy peasy lemon squeezy - and it keeps for a few weeks in a closed container.
What you'll need for the best bubbles, E.V.E.R.
6 cups water
1/2 cup light corn syrup
1 cup dish soap (I used Dawn - the blue stuff, because blue bubbles have more fun)
A bowl and spoon (a whisk works better!)
Container(s) to hold your solution (two one-quart canning jars, perhaps?)
Stir corn syrup into water until blended. Carefully add soap (like don't stand on the other side of your kitchen and try and squirt your soap in, or jump up and down while pouring) and stir some more. Ta-done. Put that solution in a shallow dish (i.e. The ones that come with the giant bubble wands in the dollar section at Target, as shown in pictures) and have your way with them - just don't make out with them, trust me.