Hello there! Come in, won't you?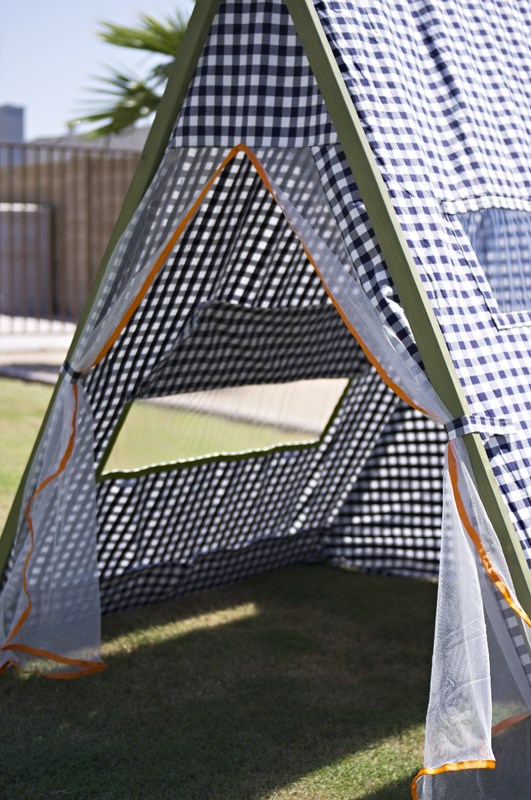 Landon's 4th birthday is tomorrow and seeing as how he's got every toy vehicle ever manufactured, we decided to get/make him something that fostered pretend play since he's getting more into that anyway as he gets older. The boy loves making forts, so after seeing
this reading nook
on Ana's site, I thought a tent would be the way to go after modifying it to my taste. It's not that I minded rearranging the furniture and throwing sheets every which way to make the forts of yore (that's right, I said forts of
yore
), but it was really time consuming and picking up really wasn't all that fun for any of us - especially for me, because folding ginormous king-size sheets with one hand all by yourself
sucks
, trust me.
And thus, the tent was born.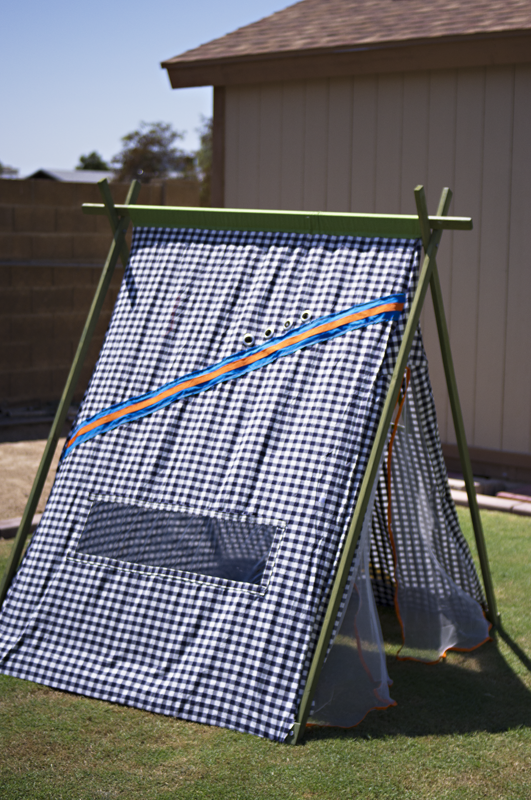 The tent will actually be used indoors, but I brought it outside for the purpose of taking pictures.
I'm not sure exactly what I was thinking, because this was a huge project. The frame itself stands six feet tall, and four feet deep (original plan was three feet). Knowing that I would be sewing the tent instead of using top tab curtains like the plans stated, I also had no pattern or anything to go off of. So, I took measurements as I went. I basically flew by the seat of my pants - and when you're me, can either be glorious or a major disaster where you find yourself balled up on the floor of your sewing room crying and swearing profanities on the phone to your mother because "how can making bias tape be this hard?!" Another story, another time.
In any case, what made the whole project even more of a dangerous feat was all the different materials used. Medium-weight cotton, light weight cotton, webbing, vinyl (oh, vinyl, you fair weathered friend!), ribbon, grommets, velcro, netting. I don't think I've EVER used that many different materials in one sewing project before. EVER. And being that I had no idea what I was doing with most of it, it turned out pretty well. What's even more shocking then the end result, was that it went smoother than any other project I've done. I had one
very minor
thread tension issue that took me a whole two minutes to clear up, but aside from that, it was smooth sailing. That NEVER happens, I swear - you can ask my mom, I'm sure she'd be happy to tell you about all the phone calls she gets from me. The entire process was like an out of body experience.
Here was my vision:
The arrows and writing explains how the finished project varied from my original plan. Please excuse the 3rd grade illustration - I sew, build, take pictures and fish. I do not draw.
I added the details on the side to give a boy-ish industrial type look - on the other side you can't see in this pic (look above) is the blue strip of raw edged fabric (will fray a bit in time) with orange webbing and grommets. I couldn't do something on one side with out doing it to the other - Nick asked why not (he just doesn't get it) :D - so I aded a couple strips of blue ribbon onto the yellow fabric then added the remaining four grommets to this side. The reason I did four grommets on each side instead of three, since I'm sure you're dying to know, was based on intense and extensive mathematical calculations that I'm sure would be way too confusing to explain, so I'll give you the short version. There were eight in the pack. There was no way I'd ever use 2 grommets on a project (I've never used them until now, anyhow), and it's kinda symbolic - you know, since Landon's turning FOUR, and there's four on each side. Are you still with me or are you just looking at the pictures?
Anyway.
Thanks for looking and I'm pretty confident that Landon is going to flip when he sees it. He's also getting a set of walkie talkies and binoculars with his tent (so he can be on the look out and report his findings to whoever will listen). I just can't believe my little baby who would hum himself to sleep in the grocery store is going to be my big four year old boy who loves pretending to pick up pizza with his Hot Wheels, who must watch movies with his stuffed animals and who is convinced that he is a Transformer (sound effects and all).