So, I was perusing Pinterest the other day and I saw an image with a quote that read, "she turned her can'ts into cans and her dreams into plans." It spoke to me. It pretty much encompasses my life, both past struggles with my accident, as well as my current interest (which happens to be woodworking - get it, plans?) As much as I loved it though, I wanted it to be a little less her and a little more everyone, especially since I live in a house full of dudes. In any case, I took the quote and reworded it a bit to suit my our fancy, then gave it a little face lift with some fun fonts and color.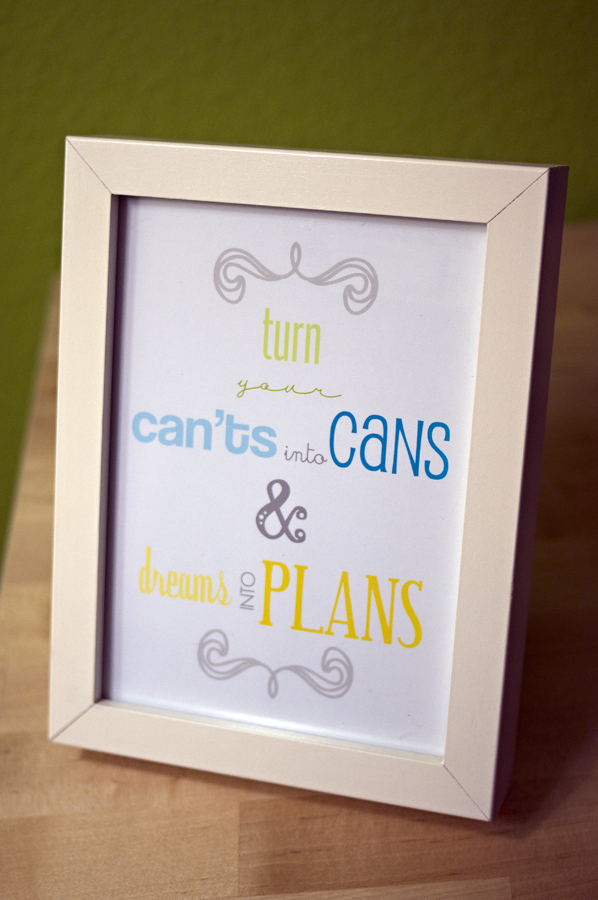 Above print is 5x7 size. Frame from Ikea.
This freebie is brought to you by my 8 gig memory card, which I thought I lost, then found (my three year old stuck it in the wrong hole in the card reader, so it was actually inside the card reader) so I am feeling especially gratuitous this evening. You may thank the memory card or my three year old, whichever you like =)
As always, I'm always aiming to improve, so if you'd like to see this in a different color scheme, shoot me a comment and I'll see what I can do!
DOWNLOAD:
Available in
5x7
and
8x10
.
Please DO NOT link to the document, link back to this post if you'd like to share
.
NOTE:
The 8x10 is centered to print on a 8.5x11 sheet of paper, while the 5x7 is oriented sideways to print on a 8.5x11 sheet, to save paper. If you want to print two, flip it around. If you want to print one, use the other side to write notes, a recipe, whatev.
P.S. As with all my downloads, I'd love to hear what you do with it!