Poor Buzz. He just wants to get back to the Gamma Quadrant of Sector Four and can't seem to catch a break.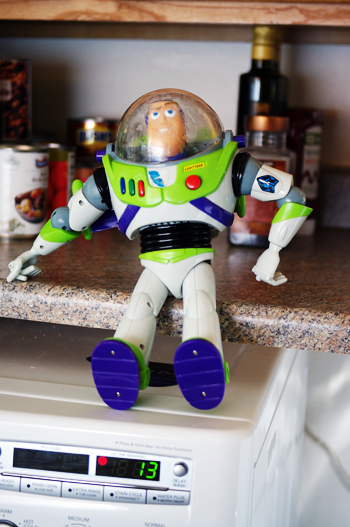 Landon had an accident of sorts (read: wet the bed, but he's doing good though!) so in the midst of pulling off sheets and comforters and throwing them in the washer, Buzzy Ear (as he's pronounced by his main man, Landon) decided to go for a little ride. He wasn't as stealthy as he thought though, as the clunking of his rock hard bod alerted us to his position. Not so smooth Buzz, not so smooth. Emperor Zurg could have been right on your tail and your callous disregard for the gravity of the situation is insulting to space rangers Universe-wide.

"What? Oh, this condensation? That's nothing, I have to work up a sweat to maintain this strong chin. Constant vigilance!"
I'm fully confident that he's not going anywhere soon, his buttons stopped working a while ago since this guy is from the original release of Toy Story back in 1995. My in-laws bought it for my brother-in-law after the movie came out. I saw how much the new ones are going for in the store; I shudder to think how much they must have been back then. At least we all can agree that my in-laws got their money's worth. I'm sure Landon would love one of those new guys though, with lights that really light up and a helmet that actually flips back like his
does
used to do, but we believe in using good ole imagination around here. We don't need no stinkin' lights, we've got MIND POWER!
Too much? Alright, well then it's because we're cheap. I mean, 40 smackaroos for a a member of the elite Universe Protection Unit of the Space Ranger Corps
sounds
like a good deal, but I gotta side with Woody on this one, because he's a smart cookie in his own right...he's just A TOY!
Okay, enough about Mattel ripping off the general public. I hope you all can sleep soundly tonight knowing that Buzz made it through his little
mid-life crisis
jaunt through the washing machine and is back at his post watching over us, ever-protecting us from Evil Emperors with laser envy.
Besides the usual stuff (like money, crayons - whoops!, etc), what's the weirdest thing that's ended up in your washer/dryer?