This...is my new fishing pole we got
forever
a few weeks ago (along with a new one for Nick and Landon). It's pink, and I love it. There's only one problem.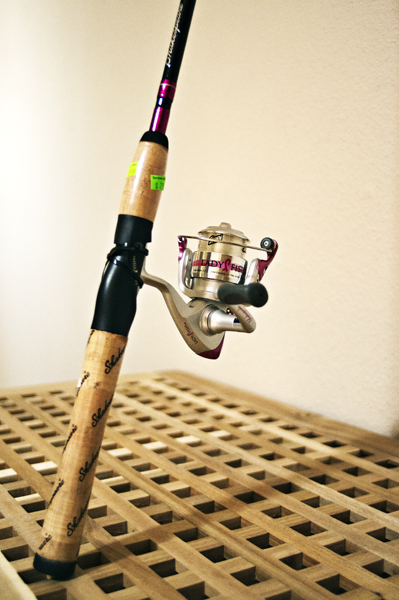 I haven't been able to use it yet.
WhaAaAt!?! I know, right?! It's an absolute travesty. Beyond ridiculous and teetering on the edge of insanity.
You see, WAY back on August 14th, 2011 I went fishing with my mom and two brothers FOR THE FIRST TIME since my accident in 2006. I really do like fishing and I'm not really sure why it took me five years to try again. The last thing Nick and I did before our accident was fish (if you count fishing at a trout farm fishing, anyway) on our way back from Sedona. Needless to say, those fishies never made it home. Maybe I thought it would be too hard to fish one handed? Nah...I think it was just one of those things you say you'd like to do but never really get around to it. Yeah, that's probably it.
In any case, I had a blast out at the lake, casting the reel and bringing in the catch (i.e. two little fish, lake weeds, and a boat motor X2) and desperately want to go back out. After getting back, the fam took a trip down to Sportsman's Warehouse where I found this beauty + two others and all the other stuff we'd need (a net, tackle box, weights, etc) so we wouldn't have to borrow it all from someone else in our family. There's a lake farther north from here where my in-laws live that I really would like to go to, as well as an urban lake about five minutes away from their house that would be great to start Landon out at. The only thing is, every weekend since then we've had something going on, from birthdays to this weekend's jaunt to San Diego/Coronado Island for a friend's wedding. Don't get me wrong, I've been looking forward to all the parties, wedding, etc. but I
really
want to go fishing and can't wait until I'm free to do so, which should be the weekend after next. As my homeboy Benny Franklin would say, "She that can have patience, can have a really, really, REALLY big fish." I may or may not have paraphrased a little bit.
What is something you've wanted to do for a long (or short) time that you just can't seem to find the time to do? I know you're out there, I wanna hear what you've got!
BTW, did you happen to notice it's a left-handed pole? Yup, I still got it ;D