A small number - and when I say small number, I mean my mom - might have read this before. It migrated over from my old blog, One Handy Mom. I brought it over here to share, because it simply is delicious and keeping it between myself and this blog's ugly step-sister would have just been mean-spirited, and that's not what Halloween is all about, right?
----------------------------------------------------
Nick and I have this favorite pizza place, and by favorite I mean,
favorite
. It's Pizza A Metro (A like "ah") and it has THE best pizza we've ever tasted. They love their customers so much that they send out this deliciously addictive salad that comes out before your order that you eat with little pieces of
heaven
crust that they've cut into little bite-size pieces. At first glance (and taste) I figured it's got tomato, onion and celery in an olive oil/vinegar dressing. From what I've been able to surmise from a quick internet search, this salad is called a tomato, onion and celery salad. Original, eh? I did notice that all the pictures look pretty different than the little salad that Nick and I had the pleasure of
wolfing down and licking the plate
eating, sooooo I'm put my own spin on it and gave it a better (or at least, shorter) name - Ah, Metro Salad. Or as I like to call it - Ahhhhhhhh, Metro Salad!! Seriously, one bite and the heavens open up and angels start singing.
To get started, this is what you'll need: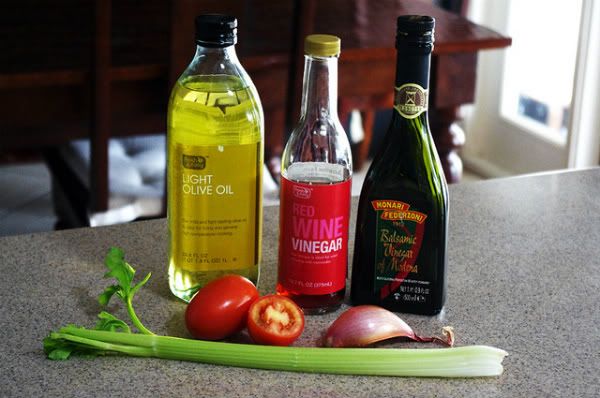 1 celery stalk
1 large shallot (or 2-3 smallish ones)
1.5 roma tomatoes
a little olive oil and both balsamic AND red wine vinegar*
Dice everything so it's all roughly the same size and throw it in a bowl.
~This is where you'll need to channel your inner chemical engineer~
Throw a little olive oil in a bowl (about 2-3T) and add some vinegar. I'm crazy about vinegar and if I had posted the amount I use it might knock you out, so I'm leaving this up to you. However, and this is very important, when deciding how much to use (probably a few splashes of each), make sure you use more RED wine vinegar than balsamic (I'm talking 30% B and 70% RW)**. This will result in a dressing that closely resembles above-mention restaurant salad. Whisk oil/vinegar, add a pinch of salt and fresh cracked pepper and revel in it's deliciousness. Spoon, anyone?
It should look like this: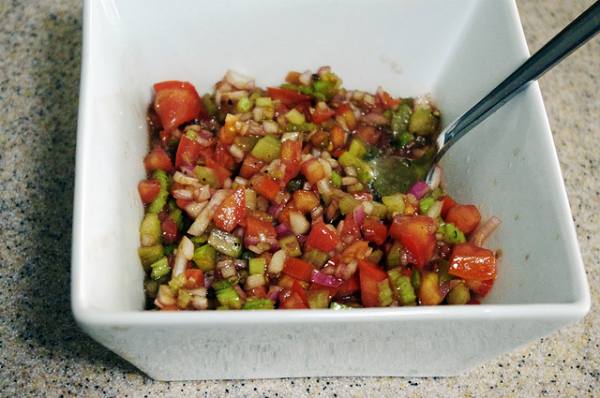 **Since we're just throwing everything together, do what you like with the vinegar. Like balsamic better? That's fine, add some more. Hate the stuff? Skip it and go with the red wine. Just don't go completely freaking nuts and start adding random stuff like
corn
. Seriously, I came across a corn, tomato, onion and celery salad in my search. Corn! Nothing against corn, but that would be like adding Cheez Whiz to chocolate milk. Gross.
Since, sadly, most of you may not have access to completely awesome pizza crust pieces, I highly recommend grabbing yourself some artisan bread, toasting it and using that to eat this with. Now put down that spoon!