It's finally here folks! I still wasn't able to get in the mood for pumpkin-carving, but I did do some pumpkin decorating! I bought these craft pumpkins at a local craft store for 50% - and let me tell you, if they weren't half price, I'm sure some sort of movie would come out about the Halloween Scrooge, and it would be about me (starring someone like Kristen Stewart - because she's got that moody, bad acting thing down and she knows her way around fictional Halloween characters.) The big pumpkin alone was $21.99 alone - ridonkulous, right? Because of the sale I was able to pick up all three for the price of the big guy, and it does soften the blow a bit knowing I'll be able to use them year after year, and throughout the entirety of fall because of my mad decorating skillz. That's skills. With a Z.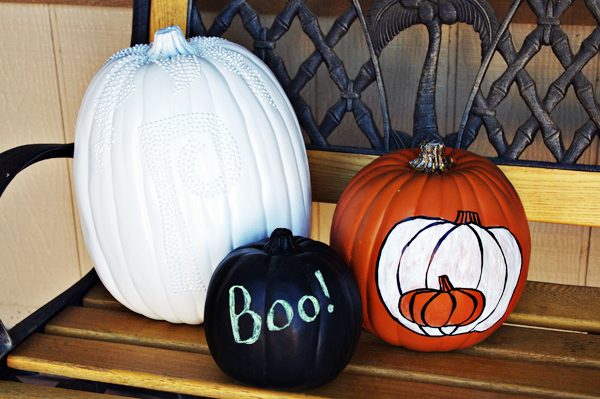 I found a lot inspiration on Pinterest, so rather than being annoyingly redundant by repeating what's already been done by saying the same thing over and over reiterating verbatim, I'm including links above each picture to let you know where I got the idea from. Sound good? Fabulous. Let's make like Walt Whitman and get outward and onward:
I really wanted something that would last well into the fall season because more usage=less money, or so I keep telling myself. Enter the Brooke McQueen of pumpkins. This lovely lady appears sleek and polished with her chic monogrammed design from afar but then has all sorts of problems going on when you get up in her grill and look around. So a few of the dots glob together...is that really a reason not to vote for her for Prom Queen and run her over with your car?


This one actually turned out really well, though. I got the idea from
John and Sherry @ Young House Love
- I know I know, they have a 'P' too, way to be original Carley, but I can't help it if our names start with the same
first
six letters. I suppose I could have put another letter, but then Nick would be suspicious and I need to make sure I stay on his good side at least through Christmas to rake in any serious loot.
For the letter P I just found a font I liked on my computer (
Eskargot
) and free-handed it onto the pumpkin using a pencil. Then I just outlined it and filled it with dots of puffy paint. I free handed the design around the stem and then spray painted it glossy white with Krylon for plastics (it's what I had on hand).
For our next pumpkin, I saw this idea on Pinterest and followed it back
here
to this very talented lady. I loved the idea that she had drawn leaves on the pumpkin because it read more "Fall" than "Halloween." Inspired by her pumpkin as well as the fine art of
recursion
(11 points go to Carley, for the win!), in which I took some creative liberties, the pumpkin within a pumpkin within a pumpkin was born.
And last, but not least, is my chalkboard pumpkin, also found on Pinterest, and followed back to
LRStitched
. I liked the idea of being able to write messages, change the faces, or even use it to countdown to Halloween (or Thanksgiving). Art is fluid, my friends, and now my pumpkin is, too.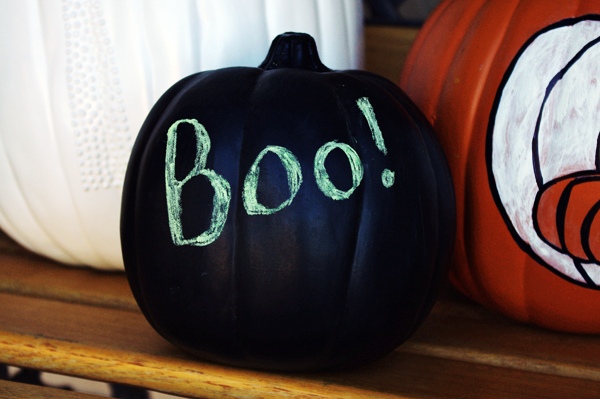 So there you have it, three pumplekins that I can use year after year. Not bad for $22. Well, except that I had to buy the chalkboard spray paint and puffy paint - but if you know me, you'll know I'll find another use for those.
May your day be sca-ryyyyyy and friiiiiiiight(ful)...I was trying to get it to rhyme with Merry and Bright. No? Well, I tried - I'm definitely no Irving Berlin, but whatareyagonnado? Have a very Happy Halloween!!