Disclaimer: This post has nothing to do with a particularly popular prime time TV show. Just sayin'. Null. Nada. Zip. 0.
Moving on...
When I was younger, you could not pay me to eat mushrooms. And when I say a younger, I mean a year ago. I hated them. Vehemently. As in, I would rather eat the fungus between my toes (jk, totally fungus-free) before I'd even consider being in the same room as a 'shroom (and I'm not talking psychedelics, people - although I've never tried those either). I mean, they're a FUNGUS. Even the word FUNGUS is disgusting.
But then something changed in me. I'm convinced it was pregnancy. When I was pregnant with Landon, I lost my taste for Dr. Pepper. Awful, right? It was downright heresy if you ask me. I couldn't eat shrimp either, it just freaked me out - and shrimp was one of the few seafood items I did like prior to motherhood. I still can't touch the stuff. When I was pregnant with Carson, I fell back in love with Dr. P (Hallelujah!) and all has been well since, but Man! - pregnancy sure did mess with my taste buds.
Then one day I saw an episode of Rachael Ray. I'm neither here nor there on my opinion of her or her show, but she made
this
dish and it looked Good. That's good with a capital G. I thought, something that looks that good can't be bad. I can't say that I made a conscious effort, but when presented with mushrooms, first on combo pizza, then in pasta, they slowly started to grow on me (NOT literally, we covered that already). What really sold me was this roasted mushroom and proscuitto pizza I had at Old Chicago a couple weeks ago. It was awesome. As in, when I took a bite the clouds parted and angels started singing. Even though it was a personal pizza, it was bigger than my plate AND my stomach. I ate it all. Ever since I have had that mushroom pizza on my mind, so over this past weekend, I found a recipe that sounded similar to the personal pi
ece of heaven
zza I had at the restaurant and it was delish. It didn't satisfy my hunger for my new love of mushrooms though, so when we went to the store to pick up a few essentials, a couple containers of mushrooms somehow made it into the cart and we've been eating them for the last two nights. You may think I'm crazy, and that's because I am, but if you've never had roasted mushrooms then you need to try it. There's an awesome recipe
here
, which I made tonight, even though I didn't have any capers, lemon juice or parsley. I did however have the butter and garlic, so all systems were go. Let me repeat that - butter...garlic...mushrooms. That, my friends, is the Trifecta of Awesome.
My pictures aren't as good as Deb's from
Smitten Kitchen
, but I thought I'd show you what a regular joe's 'shrooms might look like (without the capers, lemon juice or parsley, of course)

Mine are browning a bit since I bought them sliced. No bigs.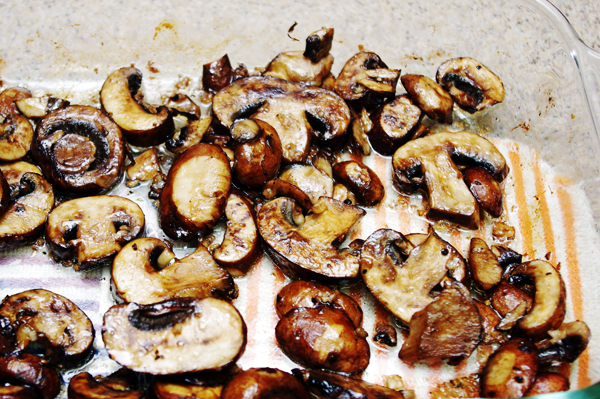 I cannot be held personally responsible for hardware malfunctions resulting in looking at my mushrooms. Seriously. You're drooling on your keyboard.

And here's what dinner looked like. It's Thursday, which is why everything is brown.




Totally kidding. I made a pork roast last night so I shredded the leftovers and threw that pig into some BBQ sauce. We're too fancy for buns over here, we use whole grain bread instead. =D I promise, I will try and stay away from monochromatic food pictures in the future (pinky promise).
Oh yeah, speaking of foot fungus and mushrooms, when I was uploading my pictures to Photobucket the advertisement they showed me was for foot fungus treatments. I'm not even kidding. I can't make this stuff up.
What is something you use to hate, or thought you wouldn't like but then you tried it and became a convert? I wanna know!