My name is Carley, and I'm a
Pinhead
.
I don't actually pin a LOT, unless I'm terrified that I'll never be able to find it again, or it's just
that
awesome. I get too busy checking out everyone else's pins that I never get around to pinning much of my own stuff. When I saw
this hat
, however, I had to pin it. I mean, how awesome are vikings?? They're rough and tumble, train dragons, and best of all - offer you credit cards! Awesome sauce, no?
What's in YOUR wallet?! (Ca. 04/2010 - 2.5 yrs)
If you remember my
pity party
I had last week, you'll remember that I was a little perturbed by the impending cost of Halloween (which might have also been fueled by my inability to figure out what to have the boys dress up as). After looking at this hat a few times (which I originally thought would be cute for Carson) and seeing this new and expertly timed
Pinterest Challenge
on YHL (if you're reading John or Sherry, hi!!!!) I had a lightbulb moment. Duh! Make Carson a dragon and Landon a Viking! We have watched How To Train Your Dragon so many times I practically live and breathe Viking.
By sheer coincidence, my cousin (the one that cheered me up last week) and I went out to an Old Navy out by her house and they happened to have their costumes on sale. I just happened to glance over and what did I see? A dragon costume, of course - and only $12! I did have most of the stuff to make my own on hand, however I still would have needed to purchase stuff and actually figure out how I was going to make it so I figured with the time and energy just to find everything for his costume AND make it, $12 was a better way to go. Plus, it's a 12-24 month size and Carson's a little peanut (I almost got the 6-12 month size), so if he can wear it next year it ends up really only being $6...right?? This way I was able to put all my hard work into Landon's costume, since he would actually appreciate it anyway and not rip it off as soon as I put it on (coughcoughCarsoncough).
Is this not the cutest dragon you've ever seen?!!
Since I was already going to get the hat regardless of costume choice, I'm not counting the cost of the pattern or yarn. I did have to purchase the yarn for the beard and duck tape for his weaponry as well, and everything else I had on hand.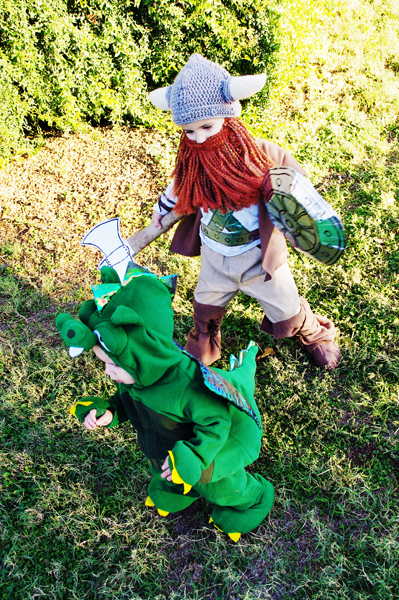 ----------------------------------------- Viking Hat-Pinspired Viking Costume
I can make tutorials for everything listed below if they're requested, but for now I'll leave you with a quick breakdown (top to bottom):
Viking hat pattern purchased
HERE
($5.50), yarn used is Red Heart Soft in Light Heather Grey ($2.50) and horns are Fisherman's Wool (I had on hand)
The beard was made out of Lion Brand Homespun Yarn in Wildfire (couponed for $4.50, normally $5.99). I made a template out of paper. Once it fit over L's face like I wanted I traced the paper template onto cotton fabric than sewed loops of yarn in three lines, cutting the bottom loops when finished. I gathered yarn strands for the mustache making sure they were extra long so I could braid the ends (like in the movie, How to Train Your Dragon). I attached a piece of elastic to the beard so he could wear it separately from the hat
The vest was made out of fleece by tracing the shirt he was going to wear, sewing the shoulders and sides underneath his arms then cutting out the front neckline and opening.
The shirt was a long sleeved white Circo tee that was stained and forever banished to the back of the closet until I got the motivation to go through the boys' clothes and get rid of it. I cut out the neckline and cut a V-neck then used the silver duck tape (couponed for $2.71, normally $5) to make it look like he had battle garb on or whatever. I used thin strips of the vest fleece to tie his wrists to make the whole Viking thing more believable.
The pants we already had.
Shoe covers were made out of the same fleece as the vest. I traced the side of the shoe, adding more room up top where the laces were at so when I sewed the two pieces together it would lay over the shoe.
The boot tops are actually just rectangles of fleece wrapped around Landon's legs over his pants and secured using brown ribbon laced in a non-sensical fashion then tied in a bow.
For the double axe I simply cut out the shape from some foam board I had, wrapped it in duct tape, drew a design on it, and stuck it in a paper towel tube that I managed to rescue from the recycle bin that day. We recently bought a new coffee pot so I used the box that came in to make the shield. I drew out an octagon shape then drew flaps off each side, cut it out, bent the flaps, taped them, covered the whole thing in duck tape, drew a design and added a handle. Whew! You still with me?
----------------------------------------
Anyhoo, that's how I made it happen! I hope you enjoyed the pictures, I crack up every time I see Landon with that beard on.
And finally, the nitty gritty:
Total with hat pattern and hat yarn: $15.21 buuuuuut....since I'm not counting that because I would have bought it anyway....the total is really $7.21. Woot! Add that to Carson's costume - which was about $13 after tax - the total comes out to just over $20, which is half of what I didn't want to spend ($40). And, because I'm a glass-half-full kinda girl, if Carson wears his costume next year, then this year's costumes only cost about $14. I have to say, I'm pretty pleased with the results.
From our family to yours, we wish you a very safe, fun and HAPPY HALLOWEEN!
"Wait, let me try that again..."
Thank you, Pinterest Challenge, for lighting a fire under me (
no
pun intended) - I probably would have never figured out what to do for the boys' costumes and would have spent WAY too much money on a store-bought costume. Here are the projects from the celebrity pinners running the Pinterest Challenge -
Sherry @ Young House Love
,
Katie @ Bower Power
,
Ana @ Ana White Homemaker
(!!) and
Erin @ House of Earnest
.