oh...wait, that's right - Halloween is over. In any case, if you haven't seen this around Pinterest, or even visited Pinterest yet, here's a cool money saving trick for you - make your own foaming hand soap for a fraction of the price!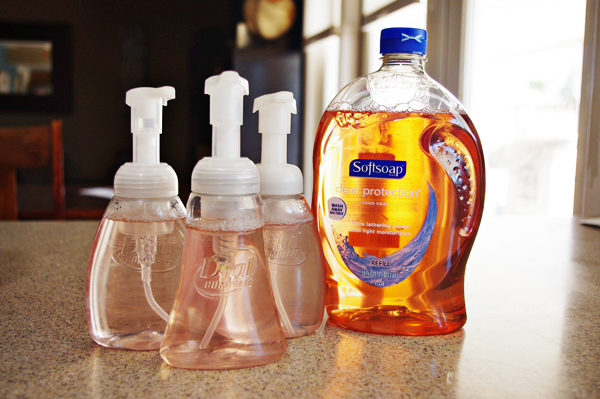 All you need is NON-foaming liquid handsoap of the see-through variety (I used Soft Soap), your empty foaming hand soap bottles and tap water.
Fill your bottles with about an inch of hand soap, then fill the rest of the way up with tap water. Put the top on then slowly (so you're not creating a bunch of bubbles) swirl the bottle around until the water and soap are mixed together.
Here's a cost comparison, because who doesn't love those??:
As you can see, the first line is the where the level was at before I used any soap.
The second line is where the level is at now after pouring an inch-worth of soap into each bottle.
The third line is where the level would have been at had I bought the store's foaming hand soap refill, which is the same size (and price) as the liquid soap refill.
Each of my little bottles are 7.5 oz and this refill is 56 oz, which means I could fill each bottle up a little over two times with store bought foaming soap. Based on the picture, that you could easily fill up the little bottles a little over 6 times each, before having to get a new refill bottle. By making your own foaming hand soap, you will only spend ~$5.99 (plus tax) to fill three bottles up six times each, vs. ~$18 after buying the store's foaming soap refill a few times to get the same amount of homemade foaming soap.
It took me two more minutes than it normally does to fill up my soap dispensers doing it this way, but given that nobody in this household is planning on giving up hand washing (E. coli, anyone?), I'd say it's definitely worth the effort when you see how much you're saving.
There are several different sources that I've seen that have instructions on making your own foam soap, however I followed MY inspiring pin back to
The Frugal Girls
website.
I want to give credit where credit is due, so as well as posting a link to the original inspiration (or inspirator) that I found, I'm also going to be heading each Pinterest-inspired ("Pinspired") post with this banner:

and you'll be able to find all my Pinspired posts by clicking on the "Pinspiration" tab in the top menu.
Now go make some soap, because I'm sure there are going to be lots of sticky fingers about now that all the candy is collected and accounted for.
Now on to Thanksgiving!